MANUFACTURING LONG-LIFE COMPONENTS
ATS manufactures machinery parts and components with innovative metal coatings. These specially engineered coatings impart extended service life to the component by retarding the damaging effects of industrial wear factors such as erosion, corrosion, cavitation, friction, sliding wear, oxidation. The long-life products from ATS find wide application in Steel, Chemical, Hydro Turbine, Steam Turbine, Oil Exploration and Oil Refining industries.
REPAIRS, RECLAMATION & REFURBISHMENTS
ATS aims to improve the working life of Process Equipment , Metal Structures , Machinery parts & components that are in service.This is done by providing surface damage solutions through various surface modifications methods including machining, grinding and metal spray coatings.
COATINGS BY THERMAL SPRAY TECHNOLOGY
For manufacturing and refurbishing activity we utilize Thermal Spray Technology on Process equipments, metal Structures, Machinery parts & Components. Thermal Spraying increases the service life of the product by reducing the damaging effect of industrial and environmental wear factors. Flame, Wire Arc , HVOF and Plasma Spray processes are implemented for undertaking metal coatings.
SEGMENT WISE DETAILS

Component Manufacturing Rolls-Shafts-Steam Turbine Components
Surface Repair Rolls-Cylinders-Turbine Components
Onsite & Insitu Coatings Tanks-Vessels-Reactor-Heat Exchanger-Boilers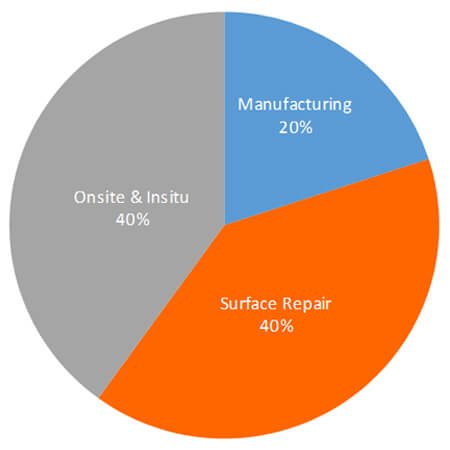 TYPES OF THERMAL SPRAY COATING SYSTEM

HVOF (High Velocity Oxy Fuel) Tungsten Carbide-Nickel Chrome-Stellite-Chrome Carbide
TWAS (Twin Wire Arc Spray) High Chrome Steel-Copper-Bronze-Zinc-Aluminium-Molybdenum
Flame Spray High Chrome Steel-Copper-Bronze-Zinc-Aluminium- Molybednum
Powder Flame Spray (Spray & Fuse) Self Fluxing Alloys